Čtěte více v článku
(

Read more in the article)
---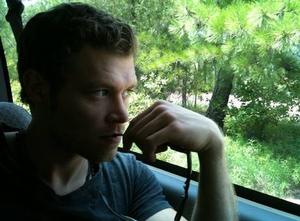 .
Fans of Mystic Falls' baddest baddie take note: We will not be seeing Klaus in The Vampire Diaries Season 3, Episode 7, "Ghost World." But thanks to a new interview with Joseph Morgan, the man behind the hybrid, we've learned Episodes 8 and 9 will more than make up for this week's absence.
.
Morgan told TV Fanatic that Episode 8, "Ordinary People," is a game-changer for his character. "We'll learn more about the Mikael-Klaus relationship, see where Klaus' fear springs from, and why it's so justified," Morgan explained. Morgan didn't confirm whether we'll love or hate the baddie after learning the roots of his issues, but he did promise viewers will get an in-depth look at one of Klaus' "incredibly dysfunctional" relatives via a 1,000-year-old flashback, saying most of Klaus' inner turmoil stems from this ancient ancestor. (We know the mother of all vampires is set to appear soon, so we're pegging her as the problem.)
.
What bearing does the family drama have on Klaus' current state of mind? The O.V.'s usual M.O. is controlling others "through fear," but he really wanted to feel that Stefan was his friend by choice, not compulsion. "It was really important to Klaus that Stefan come around on his own, through his own free will," Morgan said. "He really wanted to believe they could be friends like they were in the 1920s."
.
Aww. Dare we say that's kinda cute?
.
.
Source: Here
.